Overview of Finland - The best study abroad place in the world
---
Official name: Republic of Finland
Capital: Helsinki
Area: 338,145 km2
Population: ~ 5.5 million people
Currency: Euro (EUR)
Languages: Finnish
1. Nature - Climate
Finland is a Nordic country, bordering Sweden, Norway, Russia and Estonia. Except for the alpine region in the Northwest, most of the rest of Finland is lowlands. In particular, Finland is one of the countries with the most lakes in the world, with a total of 50,000 lakes and Saimaa is the largest lake with a width of 4,400 km2.
Besides, this country is also famous for having many forests with a forest area occupying a quarter of the territory. With such geography, Finland has always been famous for its beautiful unspoiled natural scenery, the villages and lakeside nestled along the fairy-like forests.
Coming to Finland, students will have the opportunity to visit the famous Oxthodox church, explore the harbor and the interesting flea market in Helsinki; visit ancient buildings, walk on the banks of the beautiful Aura River in the ancient capital of Turku; see the red wooden houses along the poorvonjoki river immersed in the sunset in the city of Porvoo ...
All of these will become an unforgettable experience for international students.
Finland's climate is quite different between summer and winter. Located near the North Pole, the weather here is quite cold. The average annual temperature in the capital Helsinki is about -3 - -8 ° C in the winter and about 15 - 18 ° C in the summer. Winters in Finland can get quite low, but not freezing.
Students just need to pay attention to wear warm enough clothes to be completely comfortable to go out. In particular, thanks to that, the international students will have more experience with snow, the summer is not hot but extremely beautiful with yellow sunshine and light breeze.
2. Socio-economic
From a war-torn country, Finland has focused on building the country and rising to become one of the world's leading economies of competitiveness and development potential with a variety of key industries. pointed to: mechanics, electronics, telecommunications, chemicals, pharmaceuticals, metallurgy and shipbuilding.
The Government of Finland always attaches importance to education and research and innovation, serving economic development, with the current focus on Information Technology (electronics and telecommunications, computer software and equipment). automatic,…).
According to the European Creative Commission (EIS), Finland is ranked as the 3rd most creative economy in the world, far exceeding the average of Europe and America. Because of this, students studying abroad in Europe, especially with the sector which is currently the key of the country's tradition, will have the opportunity to absorb the remarkable creativity here.
Socially, Finland is a famous country for peace, safety and high living standards. Overall, the people here are very friendly and enthusiastic.
In addition to the main language being Finnish, they are also fluent in English, Swedish, and Sami; English is in particular the most common language used in schools.
Therefore, you absolutely do not need to worry if you do not know Finnish. Just English, you can communicate and live well in this country.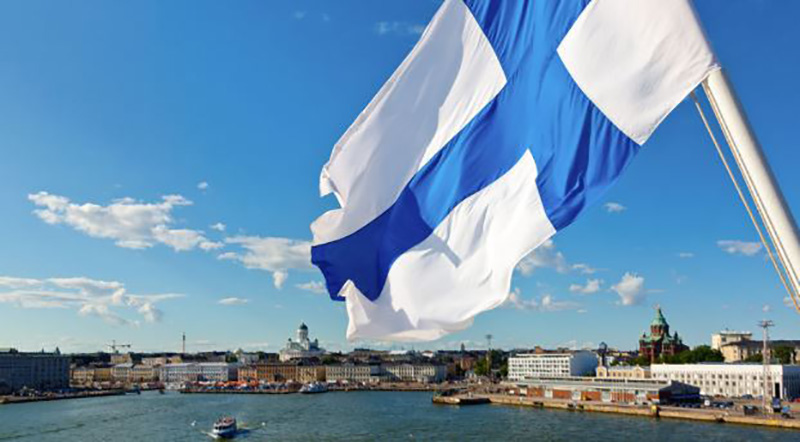 3. Education - Training
Finland is considered one of the countries with the best education in Europe and the world, even surpassing the United States in the quality of training. Famous for the policy of "teaching children to learn how to Study, NOT teaching children to learn how to test", Finnish education always focuses on training students to self-study and learn passionately and creatively through many activities: games, discussions, projects, ...; No reciting, no exams.
High-level training programs (University and Postgraduate) in Finland are always interested by the government, focusing on investment. Currently, there are 20 Research Universities and 30 Applied Universities across the country, with a large, modern campus and high quality education program. In particular, as a country that always attaches great importance to fairness, all universities in Finland are strictly controlled in equal quality. That ensures that no matter what school you study in, where you are, city or suburb, research or application, the quality of training is equally assured.
4. Student life
a. Cost of living
Finland is one of the countries with the lowest cost of living in Europe, with the average cost for an international student is about 500 - 700 EUR / month. If you have a plan and a habit of saving money, you can only need about 300 - 500 EUR / month.
The main costs to consider include:
+ Housing: 200 - 400 E
+ Eating and drinking: 100 - 200 E
+ Travel: 25 - 50 E
+ Entertainment, shopping ...: 50 - 100 E
Total monthly expenses are about: 375 - 750 E
b. Type of housing
In Finland, students can choose to stay at a school dormitory, homestay (homestay) or rent a house / rent a private room.
Usually, if renting a private room (about 14m2) in an apartment will need about 250 EUR / month, including electricity, water, internet and apartment maintenance fees. If you are lucky, you can find a homestay or live with friends, the cost may be only 100 - 150 EUR / month per person.
Because Finland is a peaceful and safe country, you can feel secure when renting and staying here.
c. Opportunity to do more
International students are allowed to work over 20 hours / week in Finland.
The common jobs here are often served in cafes, babysitting, caring for the elderly, delivering newspapers, helping the kitchen, ... with a salary of about 8 - 12 EUR / hour.
To find the most favorable job, students should try to prepare themselves for a certain Finnish vocabulary. In particular, during holidays, you absolutely can go to the "neighbors" of Finland in Europe to work and experience.
d. Daily life
Universities in Finland often have active clubs and student groups. B
Besides, the Vietnam Student Association in Finland also has regular activities, very good support for new international students. Students can fully participate to have more experience and relationships for themselves.
In Finland, class time is limited, but reading and reference materials are immense. Therefore, the students need to try hard and hard, creating their own work habits according to a schedule to arrange learning, playing and working in the best way.
Besides, when studying in Finland, you will be allowed to travel to 28 European countries easily without a Visa.
This is a great opportunity to experience, which is not easy to get, helping you expand your understanding of European civilizations.
---
---
Site aggregating news, knowledge, information about education, schools, feng shui, pictures, beautiful pictures, forms, product photos and product reviews on the market today.
All information is for reference only. We are not responsible for any results.
Email: [email protected]
Tell: 0903030935
117-119 Ly Chinh Thang, Ward 7, District 3, City. Ho Chi Minh
The articles on kidsguide.info are collected by us on the internet. If you find any infringing articles, please contact us and we will delete them immediately. Thank you!
Copyright 2004-2020 www.kidsguide.info , all rights reserved.